Nearby Restaurants

Greg's Backyard Sports Bar & Grill (across the street)
El Sombrero Mexican Restaurant
Catalina's Mexican Restaurant
Bill's Steak House & Lounge
Elmer's
Round Table Pizza
Wendy's
Burgerville
COLUMBIA GORGE STERNWHEELER CRUISES
Dinner, lunch or brunch cruises in the beautiful Sternwheeler up the scenic Columbia Gorge. For schedule information call (503) 223-3928.
THE GROTTO
The National Sanctuary of Our Sorrowful Mother, a beautiful Catholic Shrine and botanical garden, is located just minutes away. Offers 62 acres of peace, beauty and solitude in the beautiful Historic Monument of Mary, Mother of God. The heart of the Sanctuary is Our Lady's Grotto.
ROSE FESTIVAL
The Portland Rose Festival, Oregon's premier civic celebration, has been a Northwest tradition for 97 years. This unique festival bursts into bloom each spring to celebrate the City of Roses with events, excitement and entertainment for all ages. More than two million spectators are in the know. Held every spring, this 17-day festival attracts nationwide attention to its more than fifty events including the spectacular Grand Floral Parade, the Junior Rose Parade, the carnival-like Fun Center, CART/PPG Indy Car World Series Races, Hot Air Balloon Classic, the arrival of Naval Ships from several nations, the Annual Rose Show, and many more family fun activities.
MULTNOMAH FALLS
Plummeting 620 feet from its origins on Larch Mountain, Multnomah Falls is the second highest year-round waterfall in the United States.   Nearly two million visitors a year come to see this ancient waterfall making it Oregon's number one public destination. Fed by underground springs from Larch Mountain, the flow over the falls varies usually being highest during winter and spring.
PORTLAND INTERNATIONAL RACEWAY
Features all types of racing from local motor cross racing, drag racing and local car clubs to internationally known drivers of the CART/PPG Indy Car World Series and Grand Prix races.
OREGON ZOO
Founded in 1887, the award-winning Oregon Zoo is the oldest zoo west of the Mississippi. The zoo's 64 acres are home to animals from all corners of the world, including Asian elephants, Peruvian penguins and Arctic polar bears. From the mist-filled Africa Rain Forest to the majestic new Great Northwest exhibits, the zoo encourages visitors to understand and experience the natural world. Committed to conservation of endangered species and their habitats both locally and around the globe the zoo is a center for wildlife preservation and field research. The Oregon Zoo's award-winning education programs serve more than a half-million people both at the zoo and at schools, senior and community centers around the region. A summer concert series, seasonal events and the zoo railway help this popular Oregon attraction draw more than one million visitors each year. The Oregon Zoo is all of this, but it is also a safe place for families to share moments of discovery and fun.
ROSE QUARTER
The Rose Quarter features three fabulous facilities on its campus: the Rose Garden arena, the Memorial Coliseum and the Rose Quarter Commons. Come see an NBA game, a Portland Winter Hawks hockey game, a concert, or take part of one of many other exciting events.
OREGON MUSEUM OF SCIENCE & INDUSTRY (OMSI)
The entire family is invited to explore and experience science first-hand. Located along East bank of the Willamette River. For theater schedules and exhibit information, call (503) 797-4000. Open daily except December 25.
MT. HOOD
The State's highest mountain towers 11,000 feet and keeps visitors entertained all year long. Skiing is available all year, as well as hiking, climbing, and fishing.
PORTLAND MEADOWS
Enjoy horse racing every Friday, Saturday and Sunday from late October to late April. Glass-enclosed, climate controlled grandstand has three floors of excellent viewing area, plus everything from hot dogs and cold beer to cocktails and complete dinners. Closed circuit TV monitors throughout the facility. Accessible paddock area for a close look at horses and jockeys before each race. Come early Sunday for a free handicapping class. Portland Meadows is located on over 100 acres in the Delta Park area of Portland, Oregon.
Downtown Portland – view facing East and overlooking Mt. Hood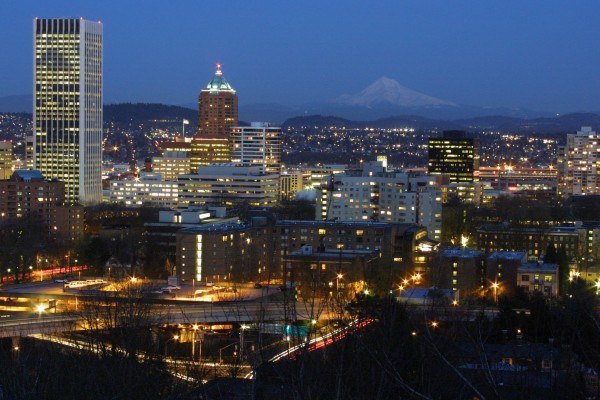 Image (c) 2003 by Andrew Hall, PortlandBridges.com